The basics
OnBrand stems from a variety of creative minds within Bynder. It started with a simple idea: let's bring marketing and creative professionals together to discuss the trends set to shape the future of branding. Five years on, we've grown to become Europe's leading branding conference.
The logo
Our logo is based on simple geometric shapes. It is carefully constructed to maintain distinctive characteristics while allowing for perfect legibility at any size on any application. The underscored O from OnBrand becomes the logomark when used on its own.
The wordmark
The OnBrand wordmark is used for any external-facing communication. The clear space around the wordmark is equal to the cap height of the logomark (underscored O).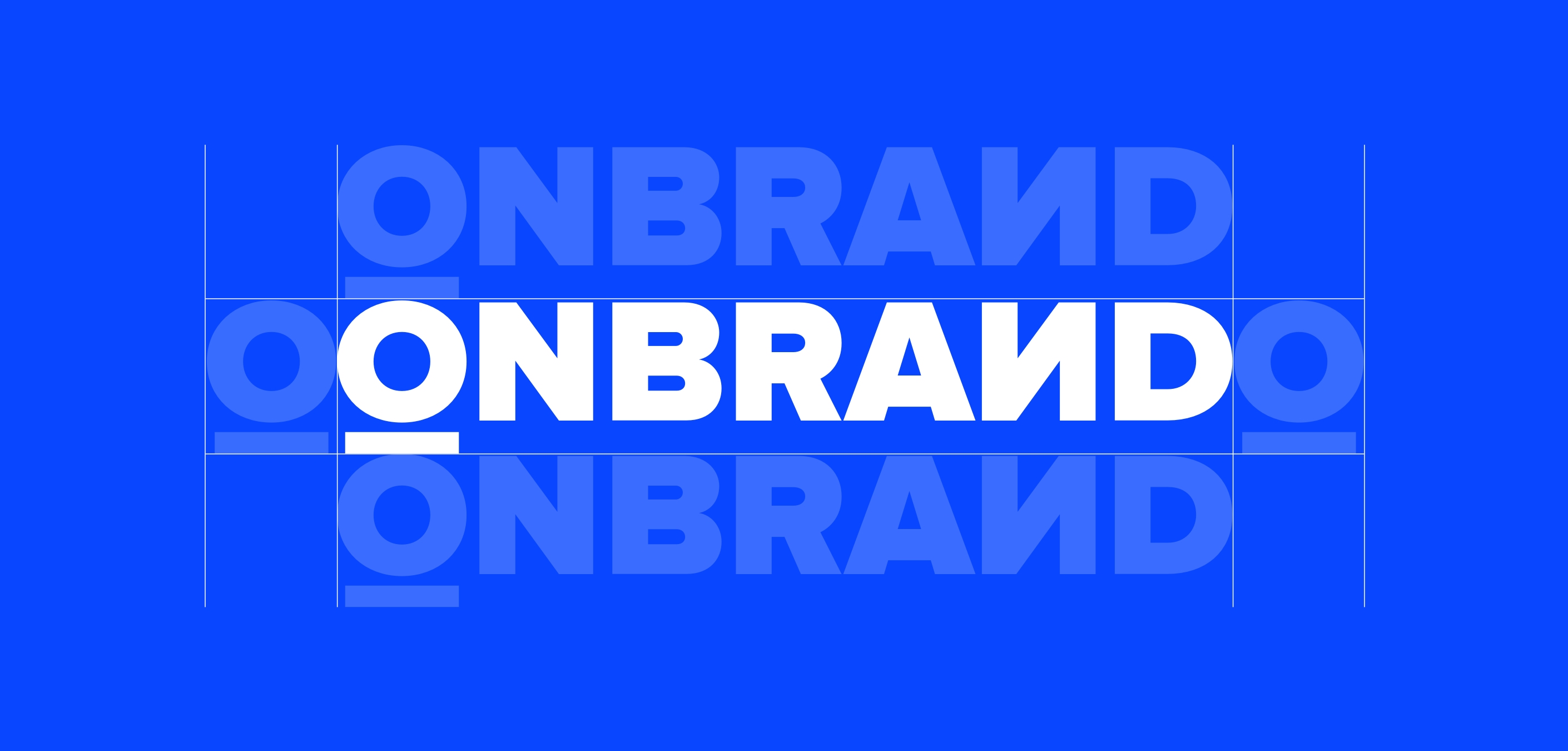 The logomark
The logomark is frequently used as an icon for our social media channels, and is particularly useful when working with limited spacing. The logomark can stand alone, provided that the core logo is also used somewhere on the finished piece. In any other instance, we use the wordmark.
Colors
Our color palette aims to visualize highly-contrasting and lively colors that hopefully resonate with our event and audience. We also chose a distinctive gradient to add focus and a splash of color to our content. Below, you can find all our colors and hex codes.
OnBrand colors
The three primary brand colors are blue, white, and dark gray. They're used to communicate accessibility, simplicity, and consistency across all brand communications. We also use 4 additional colors to add depth and variety.
RGB — 8 71 255
CMYK — 97 72 0 0
HEX — 0847FF
PMS — 2387 C
RGB — 255 255 255
CMYK — 0 0 0 0
HEX — FFFFFF
PMS — White
RGB — 68 68 78
CMYK — 71 65 51 38
HEX — 44444E
PMS — 432 C
RGB — 253 66 86
CMYK — 0 95 85 0
HEX — FD4256
PMS — 185 C
RGB — 247 237 240
CMYK — 2 8 3 00
HEX — F7EDF0
PMS — 705 C
RGB — 248 248 255
CMYK — 3 2 0 0
HEX — F8F8FF
PMS — 656 C
RGB — 34 39 143
CMYK — 100 100 0 0
HEX — 22278F
PMS — Dark Blue C
Color gradient
Typography
The main purpose of our typography is to ensure readability and promote personality. We use two typefaces across all our communication: Montserrat and PT Serif. Montserrat is used for display-type purposes where our message needs to be loud and clear. PT Serif is used mostly for body text because of its legibility and ease-of-use.
Pairings
It's important for us to maintain the following type pairings to allow for clarity, consistency, and a strong hierarchy for all communications. Medium weight should be paired with Light and Bold with Regular weight.
Call to action (CTAs)
There are two approaches when creating CTAs for OnBrand communications: a button, and a simple text link without a button.